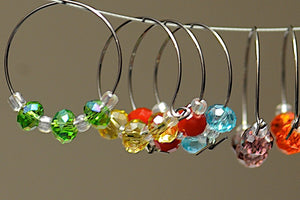 Trinity Wine Charms
Have you ever been at a gathering where you were given stemware with a trinket to help identify your glass? After a glass
or two of wine, you may not remember if you had the ram, lion, or tiger.
The solution:

Trinity Wine Charms!  See details below on how it works.
Each charm has a 

unique color to match your guests' personality; and yours.  Everyone gets to choose a charm, or you get to decide.
This fun activity makes it easy to remember the wine charm someone receives and makes a great icebreaker.  Six to a set.  Makes a great hostess gift. 
Trinity Wine Charms: The Power of 3
Select the charm that matches your guests personality!
Red: Energy, Excitement, Passion
Orange: Vibrance, Creative, Playful
Yellow: Sunny, Intellectual energy, Clarity
     or Indigo: Authority, Power, Meditative
Green: Abundance, Harmony, Fertility
Blue: Calm, Relaxed, Peaceful
Violet: Royalty, Luxury, Wealth